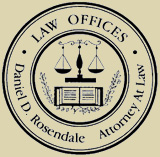 Exceptional Representation From a Real-World Perspective
When retaining a lawyer to represent you for any type of family law issue — be it divorce, adoption or a protective order — you need an attorney who is skilled and diligent as well as personable and accessible.
At the Maryland Law Offices of Daniel D. Rosendale, we pride ourselves on our skilled representation from a real-world perspective. Our lead attorney, Daniel D. Rosendale, spent many years in the working world before becoming a Centreville family law attorney, so he understands where our clients are coming from, and he is accessible.
Handling Many Types of Family Law Matters
We handle many types of family law issues, including:
Divorce
Child custody
Child support
Adoption
Name change
Separation agreements
Prenuptial agreements
Enforcement of divorce agreements and contempt of court proceedings
Protective orders, peace orders and domestic violence
We also take family law cases on appeal. Regardless of whether or not we handled the initial trial, we excel at cutting out the unnecessary details to provide cost-effective, quality appellate representation.
Exceptional Client Service
We know that the client is our main priority. When clients trust us with their legal issues, we have a moral obligation to give them our very best every time, and we take this moral obligation seriously:
We make sure to keep our clients well-informed about their cases.
We always give our clients reasonable expectations from the beginning, rather than give them unreasonable hopes that are sure to disappoint in the long run.
We get our clients from Point A to Point B as quickly and effectively as we can, minimizing the hassle on our clients' personal lives.
"I never forget how important my work is to my clients, so I am always prepared when I step into the courtroom on a client's behalf. I believe this is essential to quality legal representation." — Daniel D. Rosendale, founding attorney
Contact a Maryland Divorce Lawyer for a Free Consultation
We offer free consultations. Either call our office or send us an e-mail to learn more.