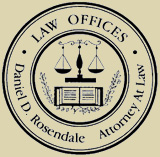 Attorney with Diverse Practice Areas and Real World Experience
When people don't want to call a lawyer, it's often because they're afraid the lawyer won't be able to relate to them. The attorney might be a legal expert, but will have no idea about any regular person's concerns and needs.
At the Law Offices of Daniel D. Rosendale, you will work with a Centreville lawyer who is accessible to our clients and easy to relate with. Our founding attorney, Daniel D. Rosendale, is a native of the Eastern Shore of Maryland who spent many years in the working world and in military service before becoming an attorney. He is accessible and skilled at providing efficient and effective legal representation in a range of legal practice areas.
Areas of Practice
While we can represent you for many types of legal issues, we focus our legal practice on criminal defense, family law, and civil litigation and appeals.
Traffic violations
Serious traffic crimes like DUI/DWI, driving with a suspended license, driving without a license, driving without insurance
Theft
Assault
Drug crimes like possession, distribution and trafficking
Violent crimes
Sex crimes
Violation of probation
Post-conviction issues like modification hearings, post-conviction petitions and appeals.
Administrative hearings with the Motor Vehicle Administration (MVA) for driver's license restoration, suspension and revocation hearings
Divorce
Child custody
Child support
Separation agreements
Prenuptial agreements
Enforcement of marital agreements and contempt of court proceedings
Modification of Court Orders regarding alimony, custody and support
Protective orders, peace orders and domestic violence
Adoption of all types, with an emphasis on stepparent adoptions
Name changes
Contracts
Landlord-tenant disputes
Collections
Consumer complaints
Construction disputes
Administrative hearings
Appeals of many types of cases, including cases where another lawyer handled the initial trial
Contact Criminal Defense, Family Law, Civil Litigation, and Appeals Lawyer for a Free Consultation
When you work with the Law Offices of Daniel D. Rosendale, you will get exceptional representation from a lawyer who understands where you're coming from. We make ourselves easily accessible to our clients, so you will never be left wondering about the status of your case.
Either call our Maryland law firm office or contact us online to schedule a free initial consultation.