Centreville Lawyer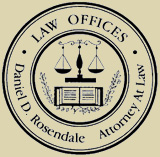 The Importance of Quality Legal Representation
Some lawyers shoot from the hip. They have a lot of experience, so they figure they don't need to put in the extra work in most cases. The problem with this approach is that every case is different and every client has different legal needs.
"Some lawyers forget how important it is for their clients to get excellent legal representation, so they shoot from the hip. I never shoot from the hip, and I never forget how important it is for my clients to get the best representation possible." — Daniel D. Rosendale, founding attorney
When you work with the Law Offices of Daniel D. Rosendale, you will work with a Centreville attorney who has been a working man for many years before becoming a lawyer, so he knows what it's like to be in your position. Our Maryland clients appreciate the accessibility and attention to detail that they receive.
Moving Heaven and Earth to Get the Job Done for You
When we take a case for a client, that case becomes our number one priority. When you are in need of legal representation, it is usually because you are in a difficult position. We consider it the most important moral and ethical obligation in our work to give you the best legal representation possible.
We will do everything we can to move heaven and earth if needed to represent you for:
Criminal defense: including DUI/DWI, traffic offenses, theft crimes, administrative hearings, appeals and post-conviction relief
Family law: including divorce, child custody, child visitation, division of assets, adoptions, enforcement of divorce agreements, prenuptial agreements and protective orders/domestic violence
Civil litigation and appeals: including contracts, landlord-tenant disputes, construction disputes and administrative hearings
Contact Criminal Defense, Family Law, Civil Litigation and Appeals Attorney
One of our most important attributes at the Law Offices of Daniel D. Rosendale is our accessibility to our clients. When you work with our Maryland law firm, we will return your calls quickly and make sure you always know what is happening in your case.
We are conveniently located across from Queen Anne's County Circuit Courthouse, open 8:30 a.m.-4:30 p.m., Monday through Friday, with evening and weekend availability by appointment. Either call our law firm office or contact us online to schedule a free initial consultation.