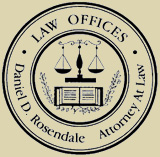 Lawyer ∙ Working Man
A law firm is only as good as its attorneys.
In our case, one of the biggest assets of our Centreville, Maryland law firm is our lead attorney, Daniel D. Rosendale. Since he became a lawyer later in life than most, he has experience in the working world:
Worked his first job as a dishwasher at 12 years old — worked up to head chef by 16
Former United States Marine Corps — served two tours of duty; worked in the Defense Intelligence Agency at the Pentagon for five years
General contractor for eight years
Earned two bachelor's degrees from the University of Maryland — government and politics, and philosophy
Earned a master's degree along with his Juris Doctorate from the University of Baltimore
Served as a law clerk for the Honorable John W. Sause, Jr. in the Circuit Court for Queen Anne's County
Opened the Law Offices Daniel D. Rosendale in 2003 — has since served more than 3500 clients regarding criminal defense, family law and civil litigation and appeals matters
This experience is a tremendous benefit to our clients. They know that their lawyer understands their issues, and that he understands how important it is for them to get the best result possible for their legal situations.
To learn more, click below
We offer free initial consultations. Either call our Eastern Shore office or contact us online to learn more.